Year 7007 Fable of A Forgotten Planet
Science Fiction Book
by
A K Vijaykumar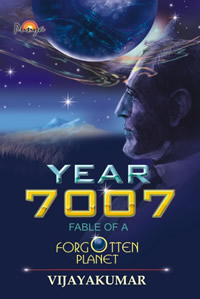 ISBN 81-8953400-9
Paper Back : Rs. 145.00

What will be the next evolutionary stride of humanbeings?
A superman who flies across the whole word and breaks the rocks with his naked hands or a human being with a highly developed mind and consciousness bordering on to telepathy.
A K Vijaykumar's debutant science fiction. Year 7007 - Fable of A Forgotten Planet. answers this question.
The writer A K Vijaykumar, with a very engaging story explores the thesis propounded by Sri Aurobindo that the next step in the evolutionary ladder would be in the realm of spirit - specifically, in the acquisition of powers like telepathy.
Year 7007 is a great page turner suspense and a thought provoking mesmerizing tale set on a stage thousands of years into the future as the name suggests. The story addresses the central mystery that the mind is much more than an assembly of neurons and neural circuitory. This is specially true of those who accept spiritual tenets.
A taut psychological fiction, Year 7007 is a superb blend of edge-of-your-seat suspense and thought provoking commentary on the direction of scientific research and human limitations.
The back drop of this book takes us into a world where, humankind has spread out and colonized space. The march of science and technology has conquered the disease, aging-and even death. The species has established itself on countless millions of worlds. There is, however, a lone exception, largely unnoticed at the fringe of this swarming human hive. The planet Zenmahaily, that sinks gradually into an oblivion. When finally rediscovered through an accident, does not seem too willing to be brought into the comity of worlds.
What is the secret that Zen wishes to keep from others?
This absorbing space opera tells the story of a career diplomat, who is sent to Zen on a routine assignment and through strange events becomes enmeshed in a web of intrigue and murder. As he finally penetrates the idyllic exterior of Zen to the dark mystery that lies at its heart, the story becomes a parable about the Human Species and its potentialities and limitations. It is a powerful story told in a way, that it works at many levels with the reader and gives a choice to accept it as a fascinating suspense fiction or a book to transform ones thinking about life.
The story at one level is a straightforward work of science fiction which unveils technologies and molecular genetics that will help human beings drink the nectar of immortality and death by choice. At another level it's a psychological thriller which develops around a bizarre murder in a faraway world of a planetary configuration set thousands of years into the future. At a third level, the story provides an opportunity to explore some philosophical questions:
What is the nature of Mind?
Will the mind be able to understand itself?
Will the ultimate fate of mankind be an absorption into its own technology, as the distinguished futurologist Ray Kurzweil has suggested?
The story thus spans a spectrum of fictional themes and can therefore be expected to appeal to a wider audience than that for a book which is traditionally slotted into a specific genre - like sci-fi, thriller or a whodunit - and addressing a niche audience.
Soft back with attractive printing with thumb nail indication on the top corners whether the story is being enacted at the Planet Zen or on the Earth this interesting short novel any body will like to read and possess.
Year 7007 - Fable of a Forgotten Planet :: Review by Satrupa Roy

Year 7007 - Fable of a Forgotten Planet is a riveting story about life and its unsolved mysteries. That no matter how much we progress with the marvellous workings of the human mind, destiny somehow finds its way to question our so-called brilliant sightings. The science fiction novella explores this universal theme in the lives of the people of Zen, a planet discovered by the earth's colonization of space.

The story unfolds at a time when earth has already mastered the process of aging and death in human life. Ambassadors from earth are posted in planetary settlements in space. The advanced know-how of our world is a guiding force for such societies but "there was something in Zen which its inhabitants did not wish Earth to discover...."

From here, the narrative traverses beyond the known sphere into the lesser-known sphere through the journey of the envoy, Dr. Charles Townsend. On Zen, he encounters his love, Mari, and her cousin, Avril, researching on neuroscience. The story takes an interesting turn with the supposed murder of Avril that haunts Dr. Charles Townsend even after his return to earth from Zen. In the end, the fable makes the reader wonder about the riddles that jolt us from our superior assumptions about life.

The life-picture of Zen in this book will fascinate one and all. The simple story telling will keep the reader engrossed in the turnings of the plot. With its outer explorations and their intriguing significance,Year 7007 – Fable of a Forgotten Planet is sure to be enjoyed by readers of all ages.

Satrupa Roy
Content Editor
www.oxfordbookstore.com