-20 %
Antaryoga
Antaryoga - For Body, Mind and Soul (Helps the quest for health and peace) The book written by Prasad and Balakrishna presents all Yoga Asanas with explicit step-by-step photographs and instructions. Colourful diagrams and graphics of meanings, benefits and precautions for each asana help the learner. Antaryoga complete with a set of asanas, pranayam and meditation techniques with schedules to develop the mind, body, and soul.
Antaryoga is a journey to tune the mind, body and spirit. It comes complete with a set of Yoga Asana, Pranayama (Controlled Breathing), and meditation techniques for a five day per week schedule. Antaryoga is written by two expert Yoga Instructors - T.S.Prasad and Balakrishanan J. After learning Yoga from a teacher one can continue the practice for Yoga at home with the help of this book.
Key Features
1. All Yoga Asanas are presented with explicit step-by-step photographs showing yoga poses and instructions for how to perform the asana. Yoga teachers can use the books because of their explicit yoga instructions.The book is also very useful for Yoga Training.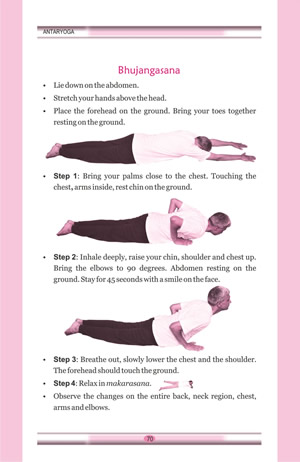 2. A special emphasis is laid on the training on yoga breathing. While practicing each yoga asana the movement of breath is clearly explained.
The book with graphic representations uses the current modes of communication for the understanding of the modern day readers. In order to have more detailed but easily understandable ideas about each yoga asana, separate flow diagrams and charts are graphically presented giving meaning of yoga asana, yoga benefits, and precautions for each asana.
3. To cope up with the stressful life, Antaryoga - the book gives instructions for a set of Asanas, Pranayama Techniques with their variations and Meditation Techniques.
4. The brief introduction of Antaryoga and yoga has been given to remove any prejudices and myths about yoga for a beginner of the Yoga practice.
5. Antaryoga book is a superb help for enhancing peace and happiness in the life of its readers through the clearly explained practice of Antaryoga.
6. In order to facilitate the practice of Yoga Asana, the book is divided on the basis of yoga postures. Every Yoga posture, sitting, standing, prone, supine, and mudra are given in separate chapters.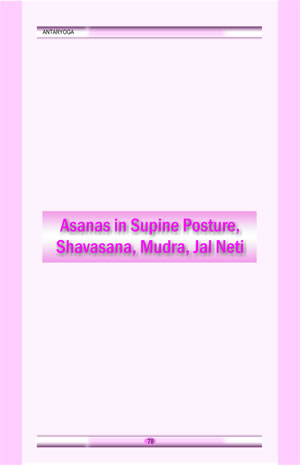 7. Thumb nails of postures are given for easy understanding of the steps, yoga positions and avoid confusions.
8. Weekly yoga schedule is given clearly to facilitate Yoga for beginners to be followed for at least 45 days and continue practice.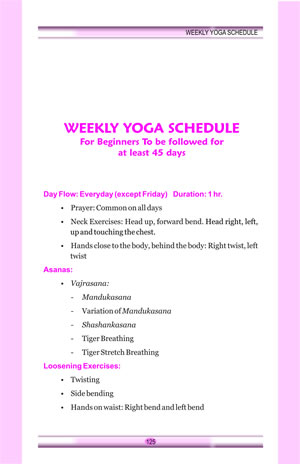 9. Separate chapters on Mudra, Neti and Mediataion techniques are also provided in the book and pictorially explained.
10. Cleansing Techniques are clearly explained with graphic steps.
The book explicitly deals with Pranayam and Meditation Practice. Weekly yoga schedule is given clearly for beginners of yoga to streamline their practice with a holistic effect on mind, body, spirit and total fitness.
Book Details
Publisher:
Punya Publications
ISBN NO:
81-89534-10-6
Book Size
140 X 215 mm
Language:
English
Binding:
Soft Back
Pages:
128 Pages
Weight:
166gms
Stock:

In Stock

Model:

81-89534-10-6

ISBN:

81-89534-10-6