-8 %
Learning to be Great 4
Learning To Be Great Book 4 is the fourth book of the series Learning To Be great 1-5. All the books in the series are divided into five parts thus covering Physical Development, Social ethical values, Value Education for environment, respect for all faiths and developing scientific attitude. For health and physical development , the stories emphasise the need for cleanliness and right eating habits with self- control. The stories touch the heart of children and stimulating questions help to internalize the values. Underlying values and quotes are given in bold so that they will become the lamp posts in the lives of children. Some stories in the book Inculcate respect for one's culture and heritage.
Creative expression is encouraged with examples of drawings. Yoga games suggested in all these books of the series help developing concentration of mind. This series also helps in language development. Role play and dramas make the book more interesting.
The stories related to trees and examples of common birds and animals that children every day observe help to give value education related to environment.
These pictorially depicted stories for children are ideal bedtime stories. Suggestions are provided to parents and grandparents to relate to children with activities and inculcate moral values. Reading stories by the child when parents are listening helps developing language skills and bring greater coherence and intimacy in the family.
The book helps to express and unfold among children physical, intellectual, ethical, and spiritual possibilities in its fullest form.
.
The aims of the series are :
All round development inclusion of values and learning of life skills
Book Features
Ecological Values Environment Protection
Scientific Thinking and Analytical Power
Respect for Culture and Heritage
Stories for Internalising Values
Lives of Great Men - Source of Inspiration
Projects - Self Confidence and Creative Expression
Life Skills - Managing Emotions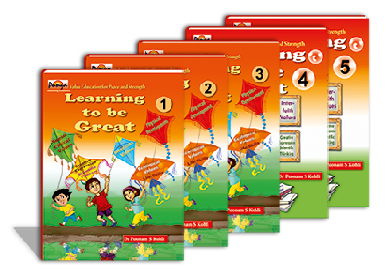 Excellent educational books for home schools. Parents can use these educational books at home for enhancing learning and character building of children.
Support For Teachers
All the books contain specially designed evaluation materials to support and facilitate the work of teachers.
All the books give an index of Learning Skills and Life skills, aims and objectives of each lesson and detailed suggestions for teachers.
All the books have suggestions for Parents, so that teachers can coordinate their work with home and create an enriched environment for children.
The authors are available to answer any queries and help teachers.
The web site and the author is constantly available to answer any queries and help teachers.
Support for Schools
Educational research services and consultancy for Total Quality Management in schools.
Book Details

Publisher:

Punya Publications

Publication Date:

2014-02-26

ISBN NO:

81 901897-6-X​

Book Size

210 X 210 mm

Language:

English

Binding:

Soft Back

Pages:

72 Pages

Weight:

140 gms
Stock:

In Stock

Model:

81 901897-6-X

Weight:

140.00g

Dimensions:

180.00mm x 240.00mm x 0.00mm

ISBN:

81 901897-6-X