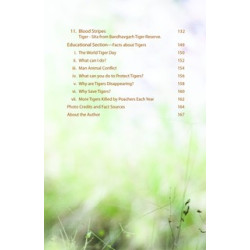 -20 %

The Untold Stories of Indian Tigers
The Untold Stories of Indian Tigers, is a unique book, with the stories of Indian tigers located in the vast picturesque jungles dotted with rivulets and lakes and old structures of forts and temples of Ranthambore and other Tiger Reserves.
These Ranthambore tigers have flashed in news, have been photographed innumerable times, and some of them are very popular in the annals of history of Indian tigers. The short stories of these tigers are presented in a distinct, never before way of peeping into their heart and mind and creating a fictionalised account of their lives. These interesting page turning stories on the lives of the tigers leave unparalleled impressions of life lessons on the minds of readers.
These fictionalised truths are both engaging and touching. The stories of Indian tigers cover a whole panorama of human emotions, from the pain of a mother tiger seeing her son's life snuffed out breath by breath with the poison of the poachers to the famous brave fight with crocodile of a tigress to save the hunt for her cubs. This beautiful collage of emotions and real-life scenic representations, will be enjoyed by readers of all age groups.
Illustrated with relevant photographs, very kindly shared by famous wildlife photographers, The Untold Stories of Indian Tigers, written by Nikhilesh Shrikhande, is a significant contribution and a novel attempt in propagating the cause of mother nature, balance of life and wildlife protection.
About The Author
Nikhilesh is an engineer and a management post graduate who lives in Bangalore and works with a Japanese automobile major in sales and marketing. This book is his first effort to blend truth and fiction to highlight the current state of tigers in our country. He is passionate about conducting "Love Our Tigers" awareness program at schools, clubs, and societies. Apart from writing short stories on wildlife his other interests are reading and public speaking. You can write to him at nikhileshshrikhande@yahoo.com.
Product Details
Language: English
Binding: Paperback
Publisher: Punya Publishing Pvt. Ltd.
ISBN: 9789381774120
Edition: 2019
Pages: 168
Printing: Full colour
Width: 140 mm
Height : 215 mm
Breadth: 10 mm
Weight: 230 gms
Stock:

In Stock

Model:

9789381774120

Weight:

230.00g

Dimensions:

10.00mm x 140.00mm x 215.00mm

ISBN:

9789381774120