-20 %
The Luminous Sparks Hard Back (Hardcover)-English
The Luminous Sparks – A Biography in Verse and Colours written by Dr A P J Abdul Kalam, President of India is a book of poems and biographical notes accompanied with matching and thought provoking visuals, created by well known painters, to nurture and bring out all that is kind, gentle and sincere in human nature. It is a pageant of sensitive impressions that shaped the greatest human being of this century — Dr A P J Abdul Kalam. The poems and notes are presented as a panorama of incidents from, his childhood, his work life and present, gradually unfolding the moments that made these thoughts possible.
These thoughts and poems are like divine dewdrops that fall on the blades of grass of our life to make it beautiful. The words inspire when they are outpourings of a heart that believes and lives them. The biographical notes interspersed with the selected poems of Dr. Kalam in The Luminous Sparks invite us again and again to read and reflect, even as it inspires and soothes the mind.
In order to have a book that could deeply inspire an inner monologue for the superior personal values, for each poem paintings were created, some of them as huge canvasses by selected painters. The relevant images were juxtaposed with great thoughts to make a total experience that leaves a lasting impression.
Excerpt from The Luminous Sparks

Whenever I come to know of the problem of communalism and social inequality, I vividly recollect one incident at Rameswaram Elementary School, I was in the fifth standard. I always used to sit in the front row along with my close friend Ramaswamy. A new teacher had come to our class. The teacher could not comprehend a Brahmin boy and a Muslim boy sitting together. In accordance with the social ranking as perceived by the new teacher. I was asked to go and sit on the back bench. I felt very indignant and so did Ramaswamy. Even today I am living with the image imprinted on my subconscious mind of Ramaswamy crying in the class when I changed my seat to the rear row. When this incident was related to our respective father's traditional close friends, the teacher was summoned and told by them that what he had done was a snake's work. Strong convictions of our parents reformed the teacher half a century ago. - Dr A P J Abdul Kalam
Sample pages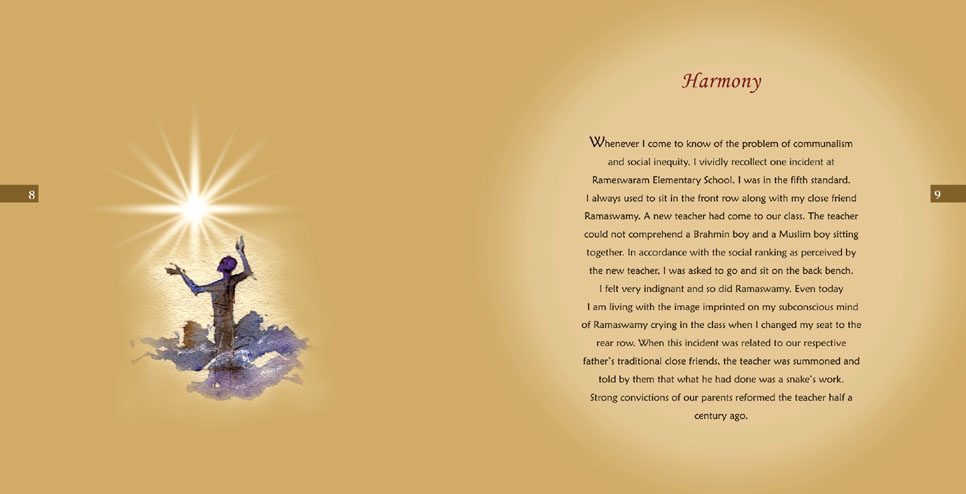 A Great Book in a New genre
In The Luminous Sparks the poet and the poems transcend the human walls and have a message for all. To represent that in colours, the artists belonging to different schools of training, cultures and age groups joined hands with us to create a symphony of many hues. In weaving this web of visual expressions, well-known artists Paresh Hazra, (College of art, Calcutta) Chandranath Acharya (Santiniketan) and GJ Jadav ( J J school of art, Mumbai) let their creativity speak through their brush. Next generation artists Manav Gupta and Neha Gouse explored light and colour and budding artists Shubham Mehta and P Vijay Kumar experimented with technology.
The book was conceptualized by Dr. Poonam S Kohli who has several years of publishing behind her. It was designed by Chandranath Acharya and Sripad and printed at Pragati Printers Hyderabad. Punya Publishing Pvt Ltd is an Indian publishing company with its focus on education publishing and some very high quality trade books such as The Luminous Sparks.
The words flowing gently cascade deep down, inspiring and nurturing all that is kind, gentle, compassionate and sincere in human nature. The poems sparkle with the personal glow and power, filled with passion and purpose. Thoughtful and provocative the poems of APJ Abdul Kalam create the experiences and images to which one returns again and again.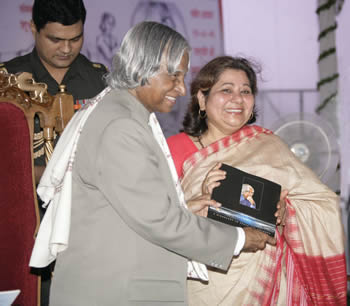 Book Details:
Publisher: Punya Publications
ISBN No: 81-901897-86
Book Size: 210 X210 mm
Language: English
Binding: Hard Back
Pages: 66 Pages
Weight: 360 Gms
Stock:

In Stock

Model:

81 901897-8-6

Weight:

360.00g

Dimensions:

210.00cm x 210.00cm x 0.00cm

ISBN:

81 901897-8-6