-9 %
Learning is Fun - 3
Learning Is Fun - 3:
Skill based activity books for Pre-primary children
Ensure multidimensional growth reduce burden on children
Teach early childhood
Skills simple and self learning
Ephasise sensory development
Skill and Activity based Text book series for Cognitive, Social and Physical Development of Children The series Learning is Fun is based on grass roots level research with children of all strata of society, urban as well as rural.
The aims of the series are :
Total Development of the Child - Mental, Physical, Social and Emotional
Reducing burden on the child by integrated approach of teaching and learning
Incidental learning of Early Childhood Skills to give a head start to the child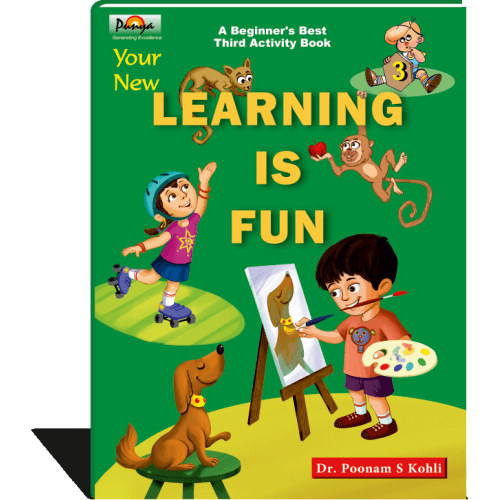 Book Features
Learning Is Fun Book 1, 2 and 3 are Textbooks for Pre-primary / Nursery LKG / UKG Classes. Children Age group 3 to 5 years.
Excellent educational books for home schools. Parents can use these educational books at home for enhancing learning and character building of children.
Support For Teachers
All the books contain specially designed evaluation materials to support and facilitate the work of teachers.
All the books give an index of Learning Skills and Life skills, aims and objectives of each lesson and detailed suggestions for teachers.
All the books have suggestions for Parents, so that teachers can coordinate their work with home and create an enriched environment for children.
The authors are available to
The web site and the author is constantly available to answer any queries and help teachers.
Support for Schools
Educational research services and consultancy for Total Quality Management in schools.
Book Details
Publisher:
Punya Publications
ISBN NO:
978-93-81774-09-0
Book Size
215X 280 mm
Language:
English
Binding:
Soft Back
Pages:
96 Pages
Weight:
250 gms
Stock:

In Stock

Model:

978-93-81774-09-0

ISBN:

978-93-81774-09-0