-9 %
Language Builder - 1


It is a complete language and grammar series. Based on the latest research in language acquisition.
students will develop English skills in fun and systematic manner.
" Language Builder - 1 " is meant for the young ones who want to inculcate the skills of effective English speaking from an early age. Compiled in a systematic format, this book is replete with interesting exercises aided by examples to make the learning process effective and interesting.
JUST FIFTEEN MINUTES A DAY FOR LEARNING ERROR FREE ENGLISH

English Grammar Textbook by Grades
Elementary English Grammar Textooks 1-5 ( With easy writing and communication exercises)
Middle and higher level English Grammar, Writing and Communication Textbooks 6-8
The book has been written based on a format that will attract the attention of the young readers. The author has taken into account the latest developments and updates in English language.
The pages of Language Builder - 1 consist of pictures and mental maps, and also puzzles and games. There is sufficient material to enhance the vocabulary of the young readers. Pictures and stories aim to further enhance the "fun" factor.
Communication and writing skills have been given importance here, with several exercises and practice material on fragment sentences, writing paragraphs, story writing, and letters, along with tabular and graphic presentations.
The author, joining hands with Indian language experts, has made sure the book as well as the series meet the demands of the Indian reader, and it has been compiled based on the syllabus provided by the boards of the country.
Language Builder - 1 also takes into account the most common errors made in English language and grammar learning. The book is divided into distinct units with reviews and assessment exercises, which will help the child practice and test his/her learning after each learning session. It ensures critical and creative thinking, exercise of the mind, and effective and long-term learning.
Published in the year 2007, this book as well as the entire series has garnered positive reviews from both parents and children. The exercises and learning methods contained therein are fairly compatible with the modern demands of learning English language. The subject matter, puzzles, and exercises help in long-term learning.
Key Features :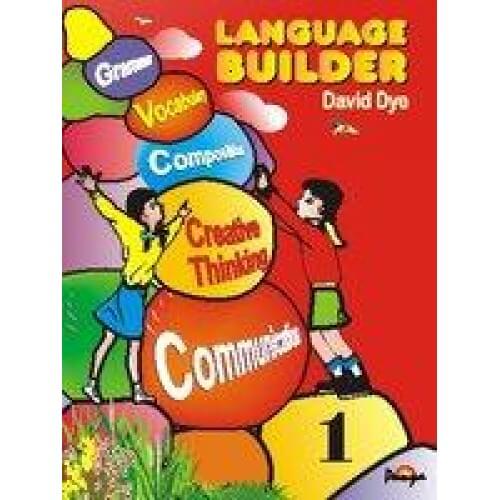 About the Author David Dye has written this and all the other books of the Language Builder series.
Dye's writing style is fun filled and interactive. His text shows that a lot of research has been put into the compilation and a lot of thought has gone into creating the exercises, puzzles, stories, and other material. The pages are vibrant and colourful, and he has also managed to use error-free content for this user-friendly series.
Dr Poonam S Kohli who has edited and compiled the series, has more than three decades experience in education and editing. She is an author of award winning and highly popular books for school students.
Book Details

Publisher:

Punya Publications

ISBN NO:

81 89534-02-5

Book Size

180 X 240 mm

Language:

English

Binding:

Soft Back

Pages:

104 Pages

Weight:

182 gms
Stock:

In Stock

Model:

81 89534-02-5

Weight:

182.00g

Dimensions:

180.00mm x 240.00mm x 0.00mm

ISBN:

81 89534-02-5